Backcountry & Frontcountry Meals
Gado Gado
Since I moved here in the summer of 2018, these warm days have always been filled with camping up in the Uinta Mountain Range. A perfect mix of cool summer breezes, mixed with warm, sun-kissed days. As we've all worked, adapted, and are pushing through these weird times, I find myself thinking about the Uintas a lot. I won't write this long, "here's the dish I'm cooking and how it relates to the current situation of my life," but instead, here's a celebration of backcountry meals and the memories they bring.
Today's Backcountry-Frontcountry meal is Gado Gado. This meal has long been a staple of backpackers as it mixes any sort of leftover vegetable, along with some calorie dense peanut butter. This meal is a culinary, artistic blend of backcountry memories with a front country use of tools. I bring you… the Frontcountry Gado Gado, perfect for your social distancing tastes!
Ingredient List
4 packages of ramen (this kind has 4 blocks of ramen in it) which we shared with two roommates

1 large carrot

1 zucchini

3 tbsp peanut butter (of sunflower butter to be allergy friendly)

3-4 green onions

3 tbsp sunflower seeds (raw or roasted)

3 tbsp soy sauce

3/4th cup water for sauce

3 tbsp brown sugar

1 tsp garlic powder

1 tsp onion powder

salt

pepper

any oil type for sauteing the veggies
Step One
Chop the carrot into thin rounds. They should be thin enough to cook quickly. Quarter the zucchini and place into the same bowl as the carrot rounds. Next, chop the green onions (white and green) and place into a separate bowl for later. RIP to the thin fallen slice!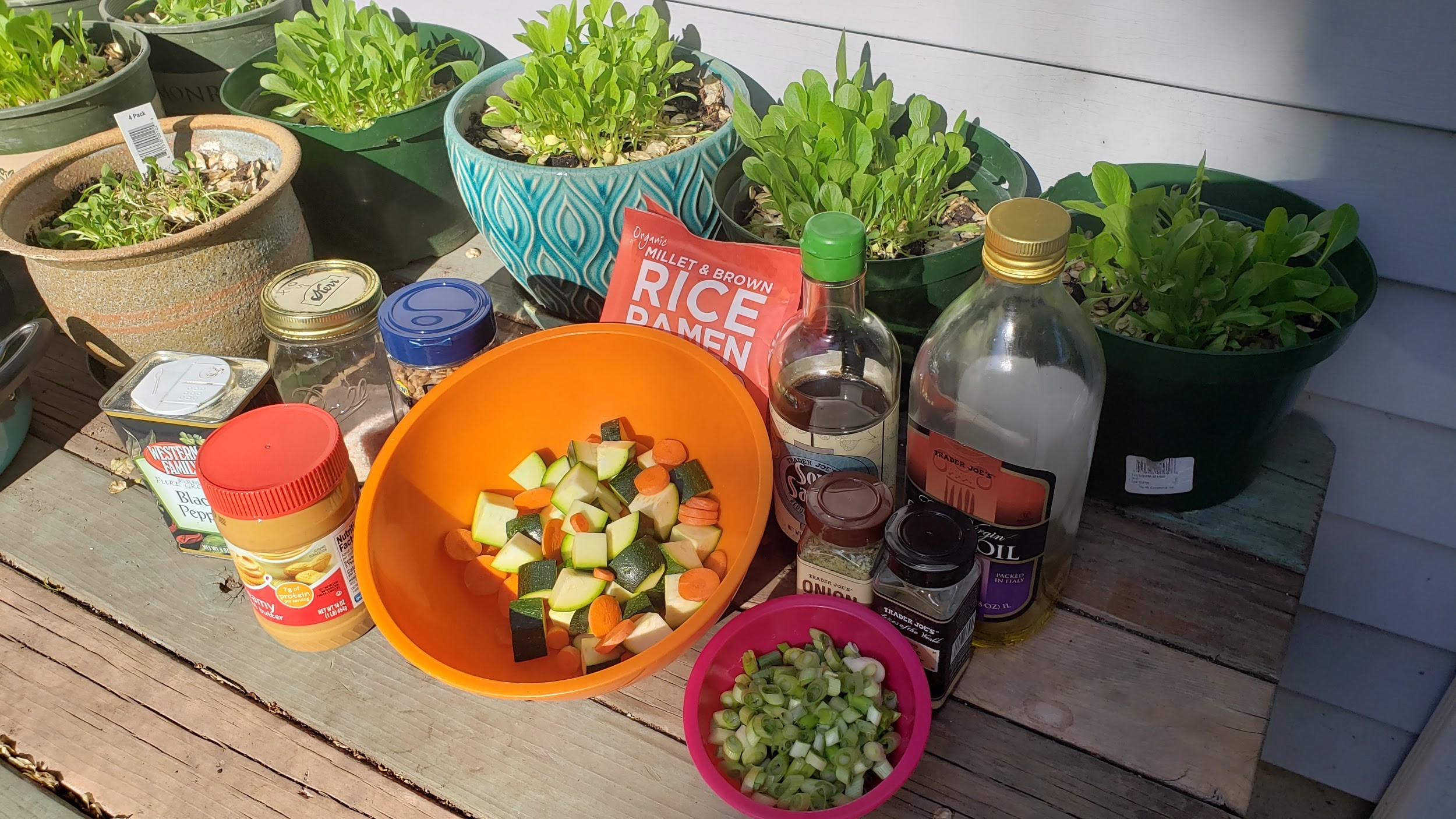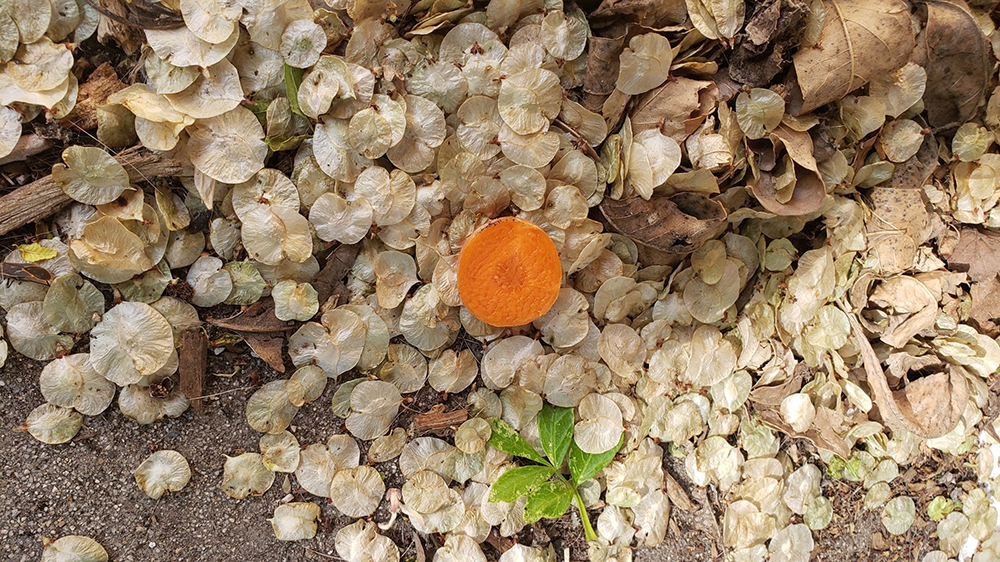 Step Two
To really get the backcountry feel, you can see my incredible outdoor table over filled with potted romaine lettuce. It's almost like preparing a meal surrounded by bushes and wild grass.
Light your stove of choice. I went with a classic Coleman 2 Burner to speed up the cook time. Place a pot with 6 cups of water on the stove and bring to a boil. When boiling, place all 4 blocks of ramen in the pot. While the ramen is cooking, place a pan on the 2nd burner and throw a little oil into it. Today, I'm using Trader Joe's Classic Olive Oil, the only oil I have in my house right now. Add the chopped veggies, garlic powder, onion powder, and sunflower seeds to the pan.
Step Three
Saute the vegetables until tender. When the ramen is cooked, drain in the nearest sink and place in a giant bowl.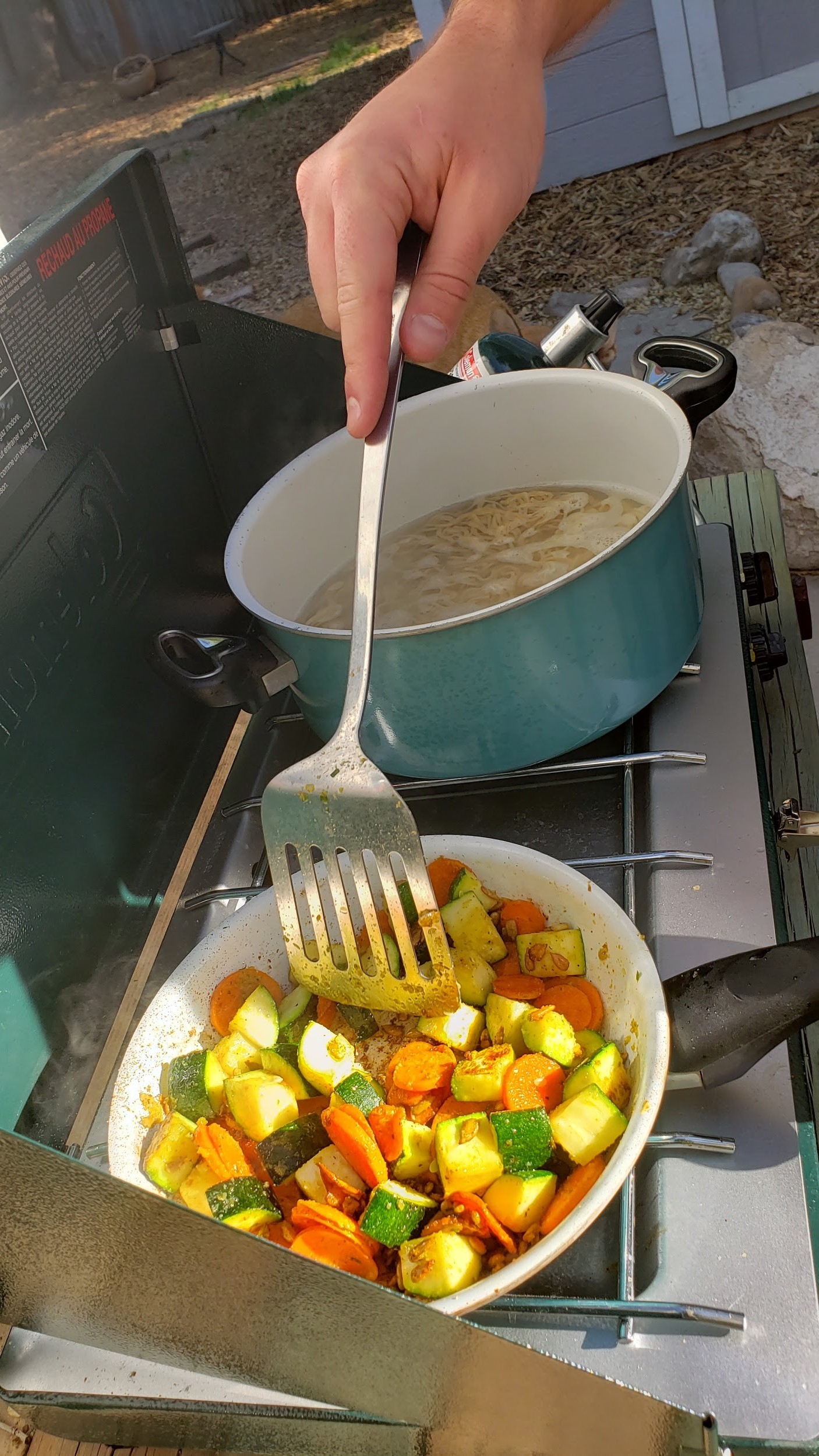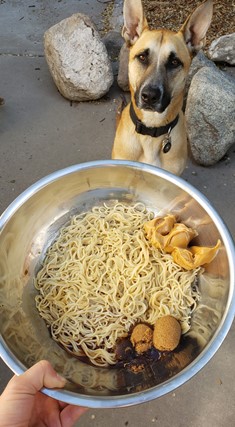 Step Four
Next, in the bowl with the cooked ramen, add the soy sauce, peanut butter and water. Mix thoroughly as the peanut butter makes it clump. When the ramen noodles are covered evenly in peanut sauce, give your local good boy a minute to inspect it for quality assurance.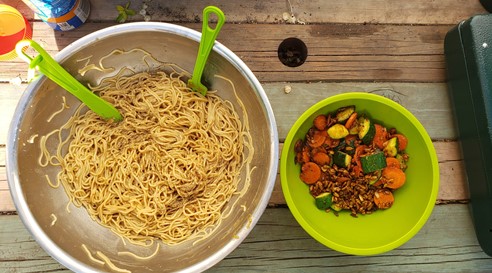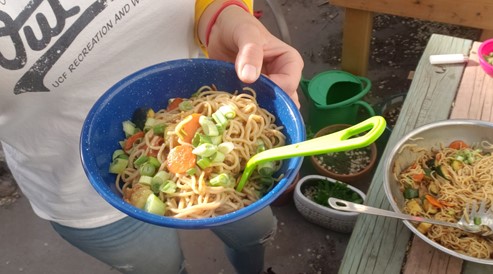 Step Five
Once the sauce is really mixed, grab your cooked vegetables and dump them in! Cover them and stir well!
Step Six
Grab your favorite camping bowl, throw a heaping spoonful of your Frontcountry Gado Gado into it and top with fresh green onions.